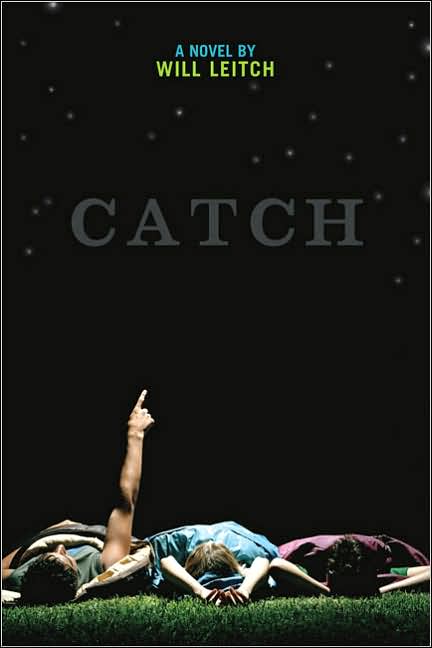 Author: Will Leitch
Release date: December 2005
Genre: Bildungsroman
Target audience: 12+
US Publisher: Razorbill
Catch
is a humorous and touching coming-of-age story. Told as a first person narrative, it is story that is so easy to fall into and it had me wanting to keep turning the pages.
Tim Temples is the narrator of this story. He is eighteen and this is his last summer before he goes to college. At the beginning of the story he is, quite honestly, a bit of an idiot. And yet, there is an endearing quality and likableness about him but that could be just because he tells us there is. Tim lives in the small town of Matton where his dad is the local hero – he was once in a minor league baseball team. So Tim is treated by everyone around him like royalty. The police wave him on when they catch him drink driving for instance. Girls are powerless to his charms. He is Mr Popular and enjoys playing the field.
Every night Tim and his posse – The Horsemen – take his Blazer around town. They do the circuit until they find some girls. They make out, eat hideous fast food and then they do it all again the next night. So how does this character make you like him? Well, in part it is because he recognises these things of himself. He is the one telling you this is what they do for a good time. And of course, it is the beginning and you know that Tim will change. His journey is honest, hilariously so at times and touching too. If there is a moment that Tim gets your sympathy, it is the introduction of his older brother Doug who has returned from college. Tim is worried about Doug because he thinks college has ruined him. Doug didn't get his diploma; he didn't succeed at college baseball. He has none of his usual spark and *gasp* he has a bit of a belly.
Beneath all this humour and Tim's adolescent urges, there is the story of a boy who isn't sure what the future holds for him or even if he is ready for it. While the town prepares for the annual Bagelfest event, Tim spends his summer days carting boxes of those inedible things at the plant. He finds a solace in the repetitive manual nature of the task and he also meets Helena. She is twenty-three and is the meanest girl in town. So of course Tim can't help but find her an exciting new challenge. Helena's story is much darker than you might expect. Despite their instant dislike for each other when they first meet, their relationship sets them both on a journey of self-discovery.
I think this book is the perfect pre-college/university read. It has a universal appeal with the matter of fact narrative and the situational humour. I found Catch unexpectedly uplifting. It has a bizarre charm all of its own. Like all good coming-of-age stories, you'll learn a little bit about life along the way too.