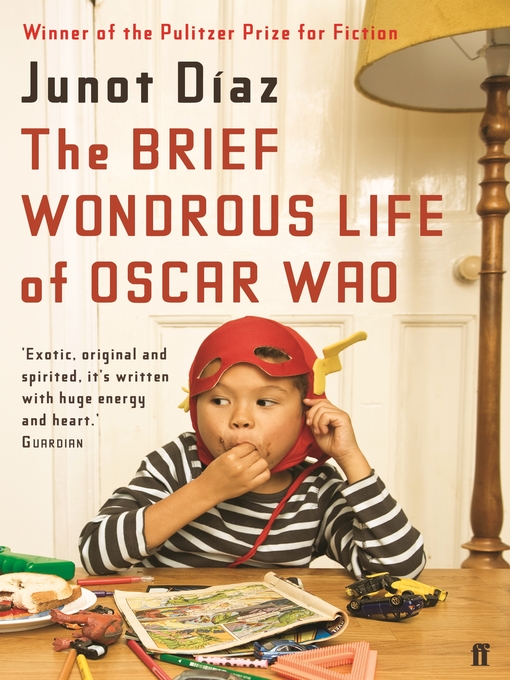 Author: Junot Diaz
Release date:
Genre: Modern, Contemporary Society
Target audience: Adult
Summary from
Goodreads
:
Things have never been easy for Oscar, a sweet but disastrously overweight, lovesick Dominican ghetto nerd. From his home in New Jersey, where he lives with his old-world mother and rebellious sister, Oscar dreams of becoming the Dominican J. R. R. Tolkien and, most of all, of finding love. But he may never get what he wants, thanks to the Fuku: the curse that has haunted Oscar's family for generations, dooming them to prison, torture, tragic accidents, and, above all, ill-starred love. Oscar, still waiting for his first kiss, is just its most recent victim.
Diaz immerses us in the tumultuous life of Oscar and the history of the family at large, rendering with genuine warmth and dazzling energy, humor, and insight the Dominican-American experience - and, ultimately, the endless human capacity to persevere in the face of heartbreak and loss.
Review:
The Brief Wondrous Life of Oscar Wao is a story that is so out there that it is hard to summarise or even get a grip on how you feel about it. This was not my choice for the staff book group read but I was more than willing to give it a try. I thought it sounded bizarre and I do like things that are random (fish fingers and custard anyone?) I was spot on. This book was not your average read. It is told by Yunior as he recounts the life of Oscar and his family. The book moves forward and back in time as it explores the lives of different family members. The story also is entrenched in the history of the Dominican Republic and the idea that every family is cursed. Beyond that, I find I cannot summarise this book at all so I'll tell you about the characters instead.
Oscar grows up as an obese child. At home his sister Lola encourages him to loose weight. His mother Beli just lets him be. At school Oscar is ostracised by his peers and ridiculed because of his excessive eating and weight. He has so much love to give but none of the girls will even look at him. He wants to be kissed. He wants to enjoy the pleasure of the female form. He also is a devourer of books, a voracious writer and aspires to be the next Tolkien. As a teen, he has two friends but even they are ashamed of him. Naturally Oscar struggles with his sense of self-worth and purpose. It seems like his passion for writing keeps him afloat. But Oscar's troubles deepen when he falls in love which happens all the time. He tries to charm the objects of his affection with his knowledge of intergalatic warfare and other such imaginings. Poor Oscar is hopeless when it comes to girls and I truly felt for him. Never has a character so desperately needed love and been so ready to give it in the bucketload full.
Lola is a real tough nut to crack. She is a vibrant and punky girl with a huge stubborn streak. I actually really liked her and could sympathise with her mistakes. She is the one person who loves Oscar beyond anything else and she tries to help him fit in when he finally goes to college. But Lola also wants to escape. Her mother Beli is a bitter and twisted woman who treats Lola like a slave. Beli has lived through some very traumatic experiences and they are described in vivid and violent detail. This book is full of brutality in terms of physical abuses and emotional ones.
It is also has content of an explicit sexual nature that leaves nothing to the imagination. This book is firmly for the adult audience. Aside from the violence, sexual content and frequent use of swearing, there is a humourous side to this book. You can't help but laugh at the constant allusion to The Lord of the Rings. There is a super geeky coolness about it and I was quite charmed by this book at times. The other great thing about it was that the narrative voice was so engrossing. Yes, the content wasn't really to my taste but I found it easy to read because I enjoyed reading from Yunior's perspective.
I have no idea who this book will appeal to...perhaps people who are interested in the rise and fall of dictatorships. Certainly the book explored the dictator's abuse of power, police corruption and organised crime. Perhaps it will also appeal to people who like the "nothing is sacred" look at literature. It really does give you graphic details in the bedroom scenes and otherwise. Overall, it was okay and kind of funny at times.